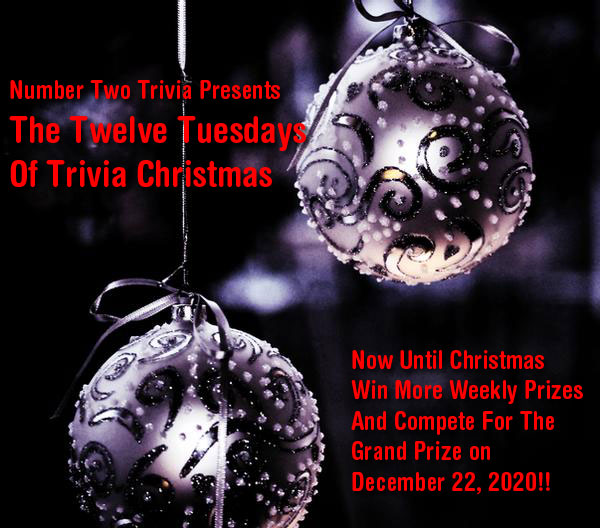 Number Two Trivia is the best Syracuse Trivia Night, period. No other Trivia comes close. It's every Tuesday Night at Grotto Restaurant in North Syracuse. 7PM-9PM (but come early for the best tables!) It's a pub style trivia night, multiple choice trivia and freeform questions. Syracuse has no other trivia night like this! Not a Trivia Company. This is Syracuse Trivia done right.
| | |
| --- | --- |
| | EACH AND EVERY TUESDAY JOIN US FOR AN EVENING OF FUN AND FACTS! THE MOST INTIMATE TRIVIA NIGHT IN ALL OF THE SYRACUSE AREA. WE START PROMPTLY AT 7PM, AND SOLO PLAYERS AND SMALL GROUPS (UP TO 4) ARE WELCOMED! WE HAVE TRIVIA NIGHT SPECIALS AT THE BAR AND IT'S ALWAYS A GREAT TIME. 7PM-9PM AND OF COURSE FREE TO JOIN! WINNING PLAYER OR TEAM GETS A $25 GROTTO GIFT CERTIFICATE! JOIN US FOR TRIVIA TUESDAYS!!!! |
Here's the rules:
YOU NEED TO WEAR A MASK WHEN ENTERING GROTTO. TELL THE HOST OR BARTENDER YOU'RE THERE FOR TRIVIA AND YOU WILL BE BROUGHT TO OUR PRIVATE BACK ROOM.
OUR PRIVATE ROOM HAS A MAXIMUM SEATING CAPACITY BASED ON SOCIAL DISTANCING RULES FOR BOTH OCCUPANCY AS WELL AS NUMBER OF TEAMS.
RESERVATIONS ARE ESSENTIAL TO BEING ABLE TO MANAGE THIS PROPERLY. WE ASK THAT YOU PLEASE RSVP BY 5PM THE DAY BEFORE (MONDAY) SO WE ENSURE WE HAVE THE CORRECT ROOM CONFIGURATION.
RESERVE YOUR TABLE (SPOT) BY EMAILING (BEFORE NOON ON TUESDAY!) TRIVIA@GROTTONORTHSYRACUSE.COM or TEXT ‪us at: 315- 400-1811‬ – PLEASE INCLUDE NUMBER OF PLAYERS (MAX 4) ON YOUR TEAM, TEAM NAME, AND CONTACT INFORMATION FOR THE TEAM CAPTAIN/COORDINATOR.
ALL HEALTH AND SAFETY PROTOCOLS WILL BE STRICTLY ADHERED TO INCLUDING SANITIZED TABLES, WRITING INSTRUMENTS, ETC. IF YOU WISH TO BRING YOUR OWN PEN/PENCIL OR PAPER TO RECORD ANSWERS – YOU CERTAINLY MAY DO SO.
WE WANT THIS TO BE FUN!!! BUT WE WANT YOU TO BE SAFE. ALL STAFF WILL BE WEARING MASKS AND TAKING THE UTMOST IN SAFETY PRECAUTIONS TO ENSURE YOU HAVE A FANTASTIC AND SAFE TRIVIA NIGHT.
THIS IS SYRACUSE TRIVIA, DONE RIGHT.
---
Announcing… The 12 Tuesdays of Trivia Christmas!!!
From September 29, 2020 until December 22, 2020 – Number Two Trivia will be giving away extra weekly prizes up until Christmas during Trivia Tuesdays. Prizes like wine (who doesn't like wine!?!), cutting boards, wine glasses, whiskey decanters, and more! NOTE: THERE WILL NOT BE TRIVIA ON OCTOBER 20TH.
Because this is NUMBER TWO TRIVIA, each week, the 2nd place winning team can either select the $25 Grotto Gift Certificate or select the weekly prize. Whichever they don't select will go to the winning team. So weekly trivia contestants will have even more opportunities to win!
And if that wasn't enough… All trivia teams will be entered to win the grand prize. Through Christmas, the team with the highest overall score will win both an Amazon Alexa Dot and an Amazon Fire TV Stick.
(actual model may vary from the picture)
How it works is you must play as the same team name. You may add/change teammates, but the end trivia night score will go to the registered team. (For example if team A wants to pull members from team B, team B will not get credit for the scores – only team A)
You do not have to play every week but the weeks you do play will be added together. The team with the highest total score after the trivia game on December 22nd, 2020 will be the winner. You do not need to be present to win on December 22.
Let the fun begin and HO! HO! HO!
(you also do not need to celebrate Christmas or believe in Santa to win)
---
Official rules are as follows:
NO PURCHASE NECESSARY. A PURCHASE WILL NOT INCREASE YOUR CHANCES OF WINNING. VOID WHERE PROHIBITED BY LAW. ALL FEDERAL, STATE AND LOCAL LAWS AND REGULATIONS APPLY.
This giveaway is open to U.S. residents 21 years of age and older. Proof of age and identity must be furnished upon request.
By entering, participant also agrees that Number Two Trivia (Dennis Crawford) may publish participant's name on any website, social media sites, or in such other media or formats as Number Two Trivia may
elect without any compensation. By entering, participant also agrees to confirm any of the above in writing upon request by Number Two Trivia.
There is no sponsor for this event. No cash value. Prizes cannot be redeemed for cash.