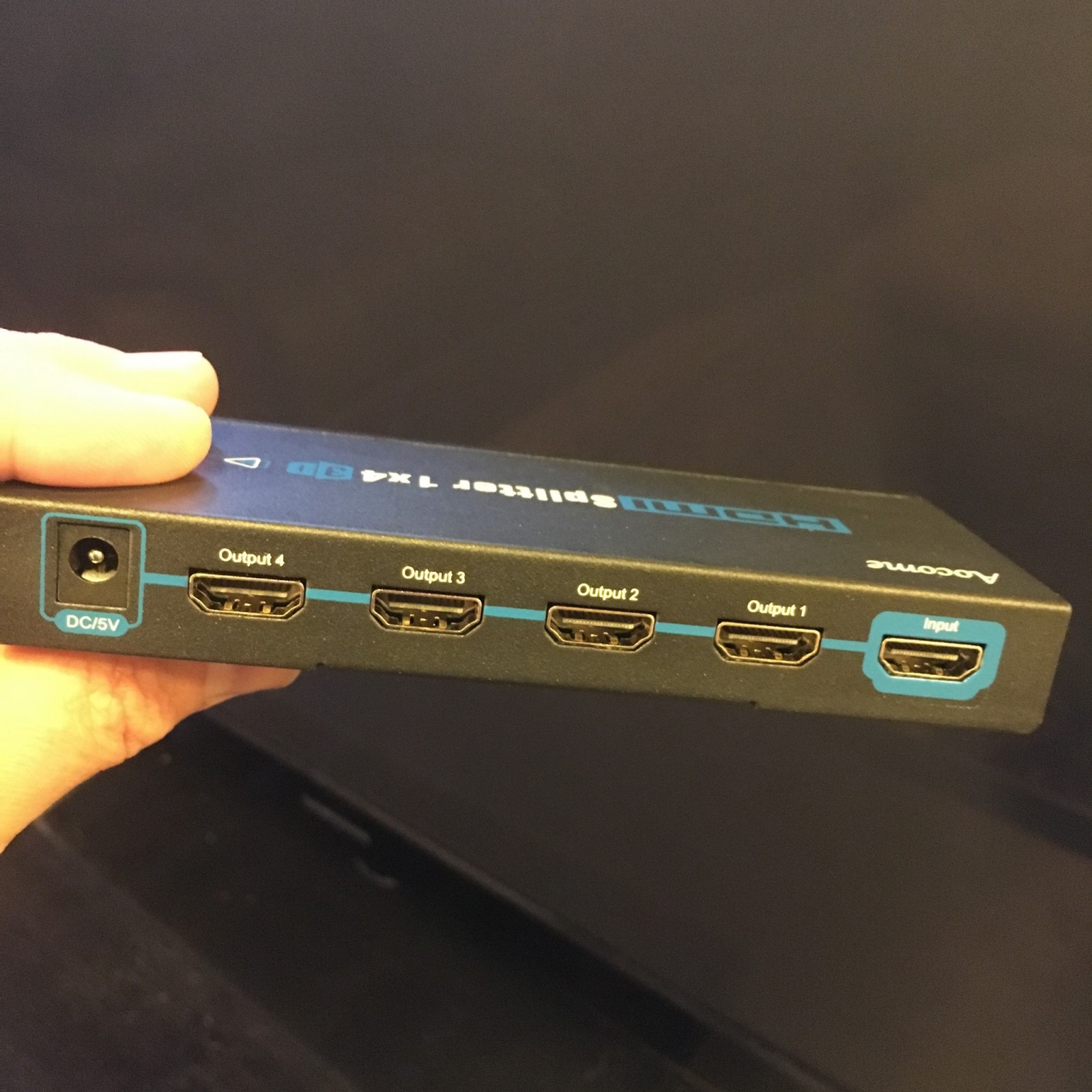 With cable boxes being so darn expensive, I've always been looking for a way to eliminate the extra expense of having boxes in each room. Combine that with my HATE of wires and clutter, and you've got a problem that this Aocome 1×4 HDMI Splitter can solve easily!
I received this unit for free or heavily discounted in exchange for an honest and unbiased review. And since I'm a technology expert / guru – it was a perfect fit for me to review. My opinions are not affected by the demo nature of this product in ANY way.
It's a small form factor splitter – which means it doesn't take up much room at all. It's so very straightforward. Plug in your source into the INPUT and then connect your TV's, Monitors, whatever you want to view it on to the OUTPUT. All 4 ports are active at once so you watch the same show on multiple TV's at once. (look at my pictures!!) Quality is excellent!!! Just make sure you select an output that all the devices can watch (it's called lowest common denominator) and you're good to go. The LED's light up to show when you've connected something so if you're using any baluns (CAT 5/6/7 extenders) you can figure out if it's a connection issue.
There is no performance degradation with this unit, and no distortion in the picture or sound. It's a fantastic unit, especially for the price.
Now you can watch a major TV event on all your TV's in your house at the same time without having delay/lag between different boxes. (if you have an HD box on one TV and analog box on another, the video/audio will be out of sync with one another…. use this box and they'll all be in sync!!!
Well worth the money. I would recommend putting one of these on every source (DVD, Media Player, etc.) you have and while you're running one HDMI to a TV, run a couple. It makes life so much easier!!
Overall, I couldn't be happier with this device. Highly recommend!!!
Available at amazon.com