Wicks Studio Dry Oil Body Mist Moisturizer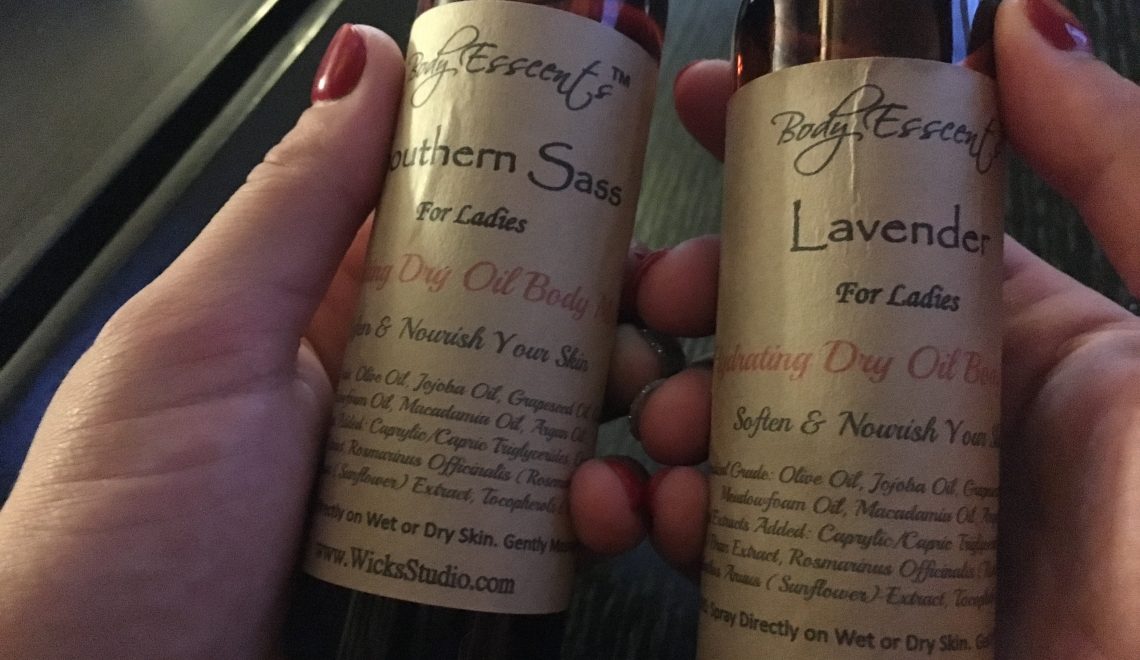 Wicks Studio has done it again!!! I tested their Skeeter Retreater product and it worked WONDERFULLY at chasing mosquitoes away.  Being 100% natural, I was hooked!  I contacted them and they agreed to allow me to test out their dry oil body mist for both ladies and men.  I think I have a new favorite moisturizer, people!!!  In full disclosure, this product was sent to me free of charge in exchange for an honest and unbiased review.  I have no affiliation with this company and if I didn't like it – you'd know about it!!!  But I did enjoy it.  In fact, I love the product.  Here's my review:
I am a huge fan of dry oils, first and foremost.  Whenever I use suntan lotion, I always find myself buying the dry oils whenever possible.  They spray on nicely, aren't all oily like the full on oils are, and they leave your skin smooth with a "glow".  This dry oil has the same great feeling – not very greasy but feels so smooth when you rub it in.  Leaves your skin with a healthy glow.  And for me, I love the scent!!!!  The mens and ladies fragrances are very nice – it's hard to know sight unseen (or unsmelled!!!)  but Wicks Studio certainly knows what they're doing… trust them!
With lotion, often you have that greasy feeling…. Not true with dry oil.  It leaves your skin feeling great – for a long time.
I think I have a new favorite moisturizer.  Everyone needs to hydrate their skin….. Use Wicks Studio Dry Oil!!!!
See their womens product at: https://wicksstudio.com/bath-amp-body/body-oils/dry-oil-body-mist-for-ladies
And also check out their products for gents, too: https://wicksstudio.com/bath-amp-body/body-oils/dry-oil-body-mist-for-gents