Great Inexpensive WiFi 802.11 b/g/n USB Adapter!!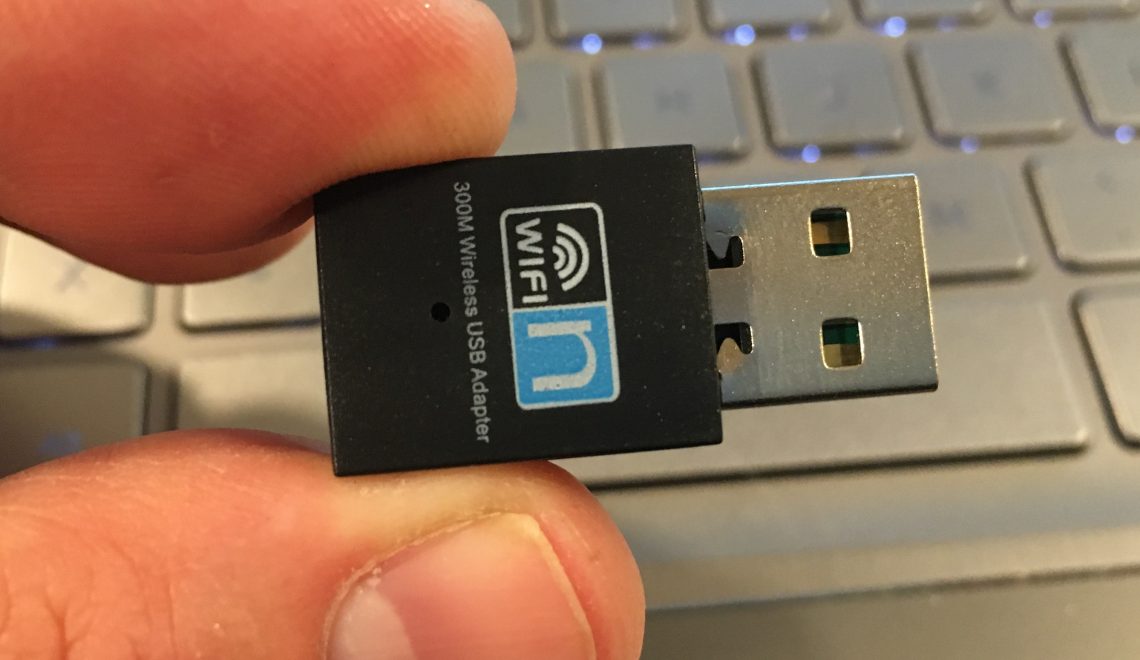 I am forever losing my wireless adapters. For real. No matter what I do, I always seem to lose them. (#wifi adapters and USB sticks always end up missing) I probably leave them at clients — so if you're reading this and I left either one at your place of business… PLEASE LET ME KNOW! 🙂
I had an opportunity to receive this ActionFly #wifi 300 Mini Wireless-N USB for free or deeply discounted in exchange for an honest and unbiased review. I figured I could use an extra one.. you know, until I lose that one too!
First of all, it's easy to order on Amazon and is delivered quickly.  Easy to open packaging, no struggle.  ( i hate packages you cannot open easily!)
The adapter dongle looks a little bigger than some that I've seen and it came with a CDROM (mini).  It says to load the drivers BEFORE plugging in the adapter.  So what did I do???  I stuck it right into my Win10 PC and it worked just fine.
I did a speedtest and it went like this:
WIRELESS ADAPTER: 7ms ping, 9.06Mbps DOWN; 17.43Mbps UP
versus the on-board ETHERNET ADAPTER (wired): 7ms ping; 83.73Mbps DOWN; 82.63Mbps UP
The driver that my PC automatically downloaded (or had pre-installed with Win10) for reference is the Realtek Semiconductor Corp. dated 2/17/2015 Version: 1027.4.1120.2014
This PC is a BEAST – core i5-6600K @ 3.50Ghz with 16GB RAM.
You'll see why this is important in a minute.
Wireless is always slower…. so that's to be expected.  So let's try this on the Windows 8 laptop…
That's when everything went south.  I plugged it in, it looked like it detected it – came up but didn't find any wireless networks.  I should have installed the software first.  But I didn't have a CDROM on this PC.  So I went to the desktop and copied the entire CDROM over to a USB drive.  Then went to the laptop, with the WiFi adapter now removed, and installed the software.  It appeared to work just fine.  I rebooted the PC at the end of the installation process.
After the reboot, I plugged in the WiFi adapter and again – no wireless networks were shown.  Ugh.
I went into Control Panel> System> Show Hidden Devices
Deleted Realtek RTL8192EU Wireless LAN 802.11n USB 2.0 Network Adapter
Deleted Realtek RTL8192EU Wireless LAN 802.11n USB 2.0 Network Adapter #2
Rebooted.  Plugged it back in – it redetected the Wifi adapter but still didn't find any wireless networks.  Frustrating!
I decided to perform the magic "System Restore" to 15 minutes ago before I installed the Wifi module and the software just to see if maybe I could go back to square one.
I should also tell you that I am a "PC guru" and half the reason why I did all this was simply to help other people avoid the common mistakes of just thinking "hey, I can just insert this plug in… what's the worst that can happen?!??!!"  Because if I can't get it to work… most other people won't either….
Of course the system restore didn't go back that far (why, i'm not sure!)  i could restore to before the software was loaded – i did that but the devices were still in control panel> device manager.
When I put in the WiFi Adapter, it says "this device is working properly" and it's using the Microsoft 1025.1.423.2013 Driver from 7/10/2013 .
I clicked Driver > Update Driver > Browse and then to the Removable Disk (USB Drive) that I had copied the information off the CDROM.   Selected Windows, RTWLANU_Driver, it searched the directory, and said it found and updated the driver.  The response was: "Windows has successfully updated your driver software".  Clicked Close.
Now under the driver tab, it lists "Realtek Semiconductor Corp." with a driver date of 1/10/2014 and a version of 1024.9.1219.2013
When I click on the Networks icon at the bottom right of my screen, THEY ARE THERE NOW!!
I hope this helps someone who just installs the WiFi adapter card without installing the software.
I then connected to the wifi network (same one as before) and re-ran the speedtest.
WIRELESS ADAPTER: 7ms ping, 17.15Mbps DOWN; 21.86Mbps UP.
versus the on-board WI-FI ADAPTER that came with the laptop: 10ms ping; 12.94Mbps DOWN; 10.45Mbps UP
This laptop is a Samsung Series 7 ULTRABOOK with a core i5 Processor (for benchmark purposes)
Conclusion: Always install the driver from the CDROM.  If you don't have a CDROM drive, find one and copy the drivers to a USB stick so you have them.  This is important.   DO NOT PLUG IN THE WIFI ADAPTER UNTIL YOU HAVE THE SOFTWARE INSTALLED.  This is critical to the device working properly.  It seems to outperform the on-board adapter on the laptop I tried it on.  Installation was easy once the software was on the machine.
For $22.99 at Amazon.com with FREE PRIME SHIPPING, that's a good value.