¡Sabor! Tal-Mex Hot Sauce Spicy Chicken Recipe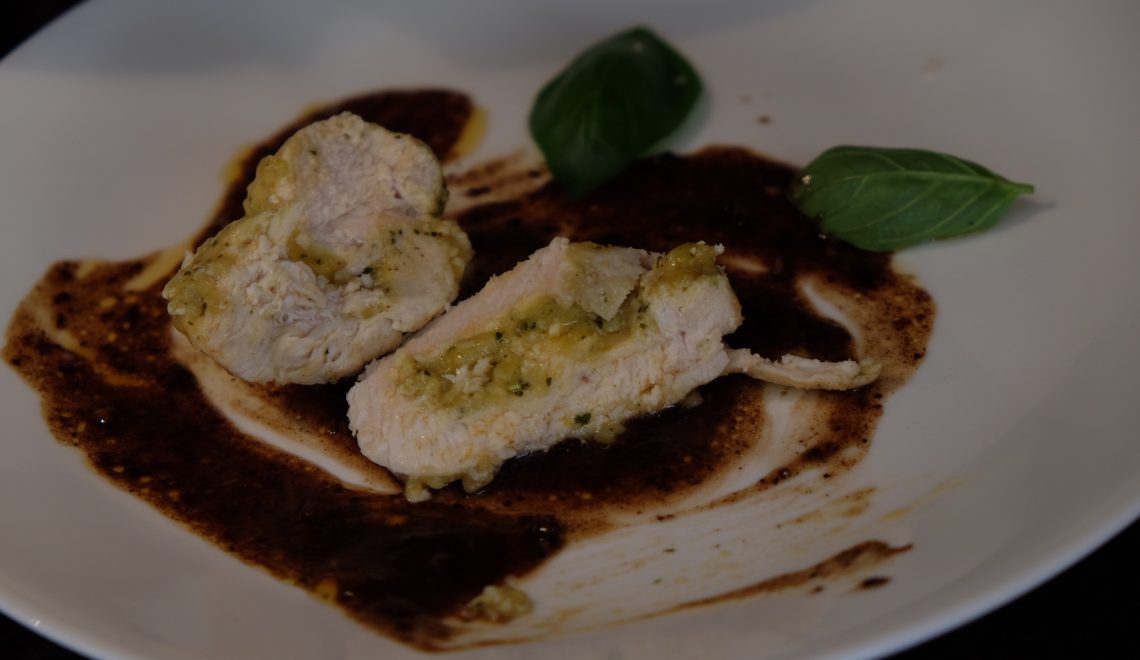 I was asked by ¡Sabor! by Texas Pete ® Mexican-Style Hot Sauce to participate in a sponsored promotion where I would get to try out their sauce and ultimately use it to come up with a new recipe.  Of course I eagerly agreed as I love hot sauces, especially ones that are made with flavorful ingredients, not just HOT ingredients.
So let me tell you a little about this sauce before we start.  It's made with secret Mexican Spices (which they won't tell me what they are!), sea salt, sauteed garlic, and aged peppers.  On paper it sounded amazing… but the real test was when I went in for a sample.  I first tried it by itself and while it had some heat for sure, it wasn't a plain "rip your mouth off" heat.  It was actually full of delicious flavor and not just pure heat.  So then I was challenged to come up with a dish using ¡Sabor! Hot Sauce as an ingredient.
I decided to combine my love of Italian Food with this delicious heat and I call it ¡Sabor! Tal-Mex Chicken.  Tal for Italian and Mex for Mexican.  Most of the time when you hear a Mexican-Influenced cuisine, you think Tex-Mex.  Rarely Italian Food.  Italians aren't any stranger to spice though… Arribiata, Fra Diavolo, even their sausages can be spicy.  But I've never heard of a Mexican-Influenced Italian Dish…….
….until now.   I present to you my:
¡Sabor! Tal-Mex Chicken
Yield: 2 portions
Prep time: 15 Minutes
Total Time: 35 Minutes
Ingredients
4 garlic cloves
12 basil leaves
¼ c. fontina cheese
¼ c. provolone cheese
1 TBSP. Sabor! Hot Sauce (+/- to taste)
2 Boneless skinless chicken breasts
½ c. water
½ c. balsamic vinegar
Wondra pan-searing flour
Directions
Process (or manually chop by hand) Garlic, Basil, Italian Fontina Cheese, Provolone Cheese, and Sabor! Hot Sauce together and turn into a spread.
Preheat oven to 350 degrees
Trim fat off chicken breasts
Butterfly chicken breasts but don't cut all the way through
Spread mixture into the chicken, roll up and secure with toothpicks
Sear rolled-up chicken in olive oil on both sides in a cast-iron skillet
Bake at 350 degrees for 20 minutes
Take out to rest
Add ½ c. water, ½. c. balsamic vinegar, and Sabor! Hot Sauce to pan and reduce on high heat
Add Wondra pan-searing flour (optional) to thicken sauce
Cut chicken and spoon sauce on top – Serve and Eat!
See my recipe video on Youtube.com !!