WiFi HD Action Sports Camera 1080p (Like GoPro, SJ4000) Smarson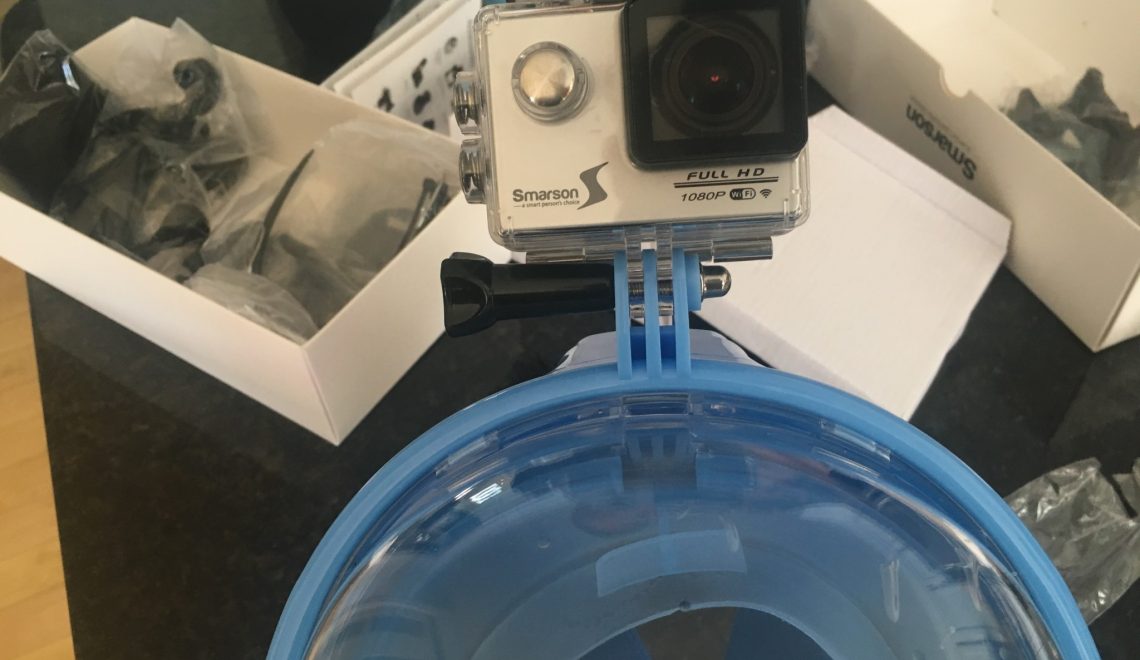 The Smarson WiFi HD Action Sports Camera is a must-have for anyone who is active, likes to explore the outdoors, or is an underwater enthusiast.  Paired with the Smarson Full Face Snorkel Mask, it's the perfect combination for a snorkeling or diving tour!!! I was fortune enough to be chosen to purchase one of their action cameras at a significantly reduced price in exchange for an honest and unbiased review.  I do not have an affiliation with this company other than I am testing their products and publishing straight forward honest reviews.  So don't let the fact that I received a discount on this product influence your decision about my review.
This is a $50 action camera, very similar to the SJ4000 or the older GoPro Hero series cameras.  But it's at a significant savings – much less expensive.  Does it perform well?  Absolutely.  It has some great features like being able to pair with your WiFi smartphone or tablet and transfer the pictures and videos immediately.  THINK: you can share these on social media right away!
It's 1080p and the resolution is pretty good – again, take into consideration it's a $50 camera — not a $449 Hero4 Black or $349 Hero4 Silver.  So bear that in mind that you do get what you pay for.  But in my opinion certain things like the LCD display to see what you're recording aren't even on some of the older GoPro Hero Cameras so this one has a significant advantage!! (On one of my last trips my buddy had a go pro and he was just holding the camera up in the air and I was asking him "how do you know what you're recording"… His answer was "I just point it in the general direction!")
This action camera comes with more accessories than I know what to do with them.  Seriously, there should be an entire instructional video for how and when to use thee attachments.  I mean some are straight forward like the bicycle / motorcycle mount — i mean the bike mount is pretty self explanatory.  But other ones like "mount 4" "mount 3" "mount 2"  — I'm at a complete loss for what to do with them.  It comes with helmet mounts too, but I probably won't be using them anytime soon!!!  There's everything you'd ever need  including tethers, straps, charger and cable, and yes – the waterproof housing.  This camera is water proof!!!! (when it's in the housing that is!)
And the camera attaches right to the full face mask they sell.  They say it's a go pro mount, so I guess this camera is probably adhering to the universal standard so anything go pro related – this would probably work on.  Don't quote me on it, but I'd say the probability is high based on my research.  By default the timestamp is ON so I would suggest turning that off!!!  If you're taking 1080p at 30fps, you can get a whopping 240 minutes out of a 32GB card!!! (it's max capacity).  Your battery will likely run out long before then.  And if you're looking for backup batteries — you're in luck.  This camera takes the standard SJ4000/5000/6000 battery works fine.  So a simple google search for sj4000 sj5000 or sj6000 battery will yield tons of results for you.  You will also find that the batteries are VERY inexpensive (i think my 2-pack of extra batteries with a double charger was under $20!!)  — which is a huge plus.  The last thing you need is your battery dying in the middle of a hike, snorkel, dive, or whatever you're doing.
The quality is good.  It's not amazing, in fairness.  But it is very decent.  Way better than what I was expecting for $50 I will say.  The low light performance of this camera under water was really really good.  The audio could be a little better, but it's not bad.  It overloads a bit if you're in a very noisy environment like a concert – but generally, works great in everyday scenarios.  For $50 though… it's a great performing camera and will allow you to capture some REALLY cool videos (and photos) that you might not have otherwise been able to capture.  And it keeps your hands free when you use the mounts to actually enjoy whatever it is you're doing.. bike rides, snorkeling, whatever!!!  I honestly HIGHLY recommend this camera, especially for underwater use.
See the mask at Amazon.com
See the action camera at Amazon.com
See the example video I shot at: 
This review is for the Smarson Action Camera that can mount to the Smarson Full Face Snorkel Mask.  See the review of the snorkel mask: