Full Face Snorkel Diving Mask – Anti Fog & Leak – Smarson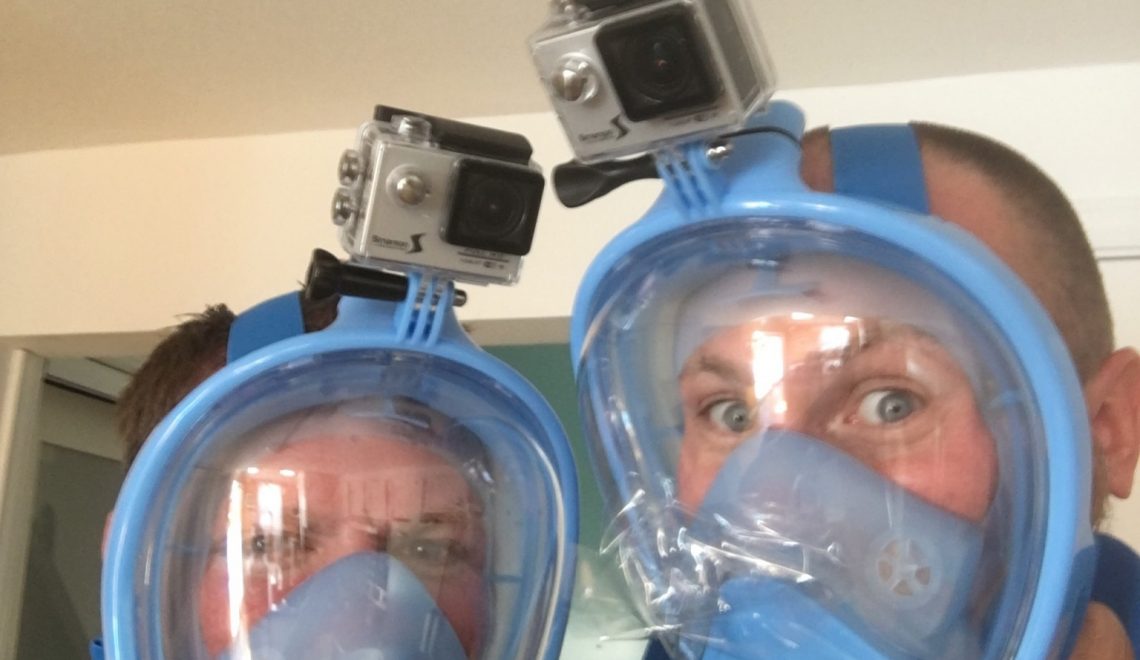 This Smarson Full Face Snorkel & Diving Mask is ABSOLUTELY AMAZING.
If you read nothing more about this product, just click buy now and be done with it.  Seriously.  It is un-freakin' believable.  Let me get the obligatory disclaimer out of the way because I was able to purchase this mask at a significant discount in exchange for an honest and unbiased review.  I have no interest in this company whatsoever other than I was able to work with them to receive some of their products and in return I am testing them, putting them through stressful testing, and providing an honest and unbiased review.  Ok, so with that stated, Here's my review:
I have been snorkeling in the South Pacific many, many times.  The standard snorkel masks are very horrible to use for most people, they fog, they fill up with water, and they're uncomfortable.  This Smarson mask doesn't do any of that.  I tested this mask in my backyard inground pool many times and only a couple times did I notice a little water come into the top of the mask — but it's design ran right through the front of the mask and out the bottom  Seriously, I was like "what is that?" and it didn't even affect or bother me whatsoever.  The mask performed flawlessly.  The breathing tube was a little troublesome initially – because I was used to an individual mask and snorkel.  I wasn't quite understanding that you can breathe normally when you snorkel.  Just didn't register right away.  I was taking quick fast breaths and the breathing tube wasn't large enough for me to do that.  I panicked a few times and came up for air but I assure you it was user error.  Once I figured out how to do long, SLOW breaths, my world came together with this mask.  I was able to snorkel for 30+ minutes without even a single issue.  The ball valve in the snorkel prevented water from coming back into the mask and not a SINGLE TIME did I ever get water in my eyes, nose, or mouth.  Not once.  I'd say that was a HUGE success.
Let me also say that the VIEW out of this mask is incredible!!!  When I go back to the Cook Islands (where I love to vacation in the south pacific) i'm bringing this mask!  You have a complete panaromic view – 180 degree view – of everything.  With regular masks you see pretty much what's in front of you.  The panorama when wearing this mask is outstanding.  It changes the entire game of snorkeling!!
And last but certainly not least is GoPro mount.  You can put your go pro camera (Hero4, Hero3, Hero anything!) and it attaches right to your mask.  You don't need to do a thing, just turn it on and go.  That's what I love about it.  To be able to have your action camera mounted to your face mask – that's the best right there.  I cannot wait to go on vacation!
So in summary, this Smarson diving & snorkel mask has everything you'd ever want.  It's anti-fog, anti-leak offering you a 180 degree wide angle viewing area and it's also durable and scratch resistant.  You can mount your GoPro or other action camera onto it (which Smarson also makes one) and frees your hands to swim and enjoy the snorkeling or diving experience.
Once in a great while a product comes along like this that's very innovative that changes everything.  Well, Smarson's Full Face Snorkel Mask changed everything for me!  I'm so impressed with it and highly recommend it to anyone looking to go on a snorkel or just wants an incredible mask for their pool!  If I could give this 100 STARS I would, but I guess 5 STARS will have to do!
See the mask at Amazon.com
See the action camera at Amazon.com
See the footage here:
This review is for the Smarson Full Face Snorkel Mask that a Smarson Action Camera can be mounted to.  See the review of the action camera:
WiFi HD Action Sports Camera 1080p (Like GoPro, SJ4000) Smarson