Zoomable Tactical Flashlight Mini LED Waterproof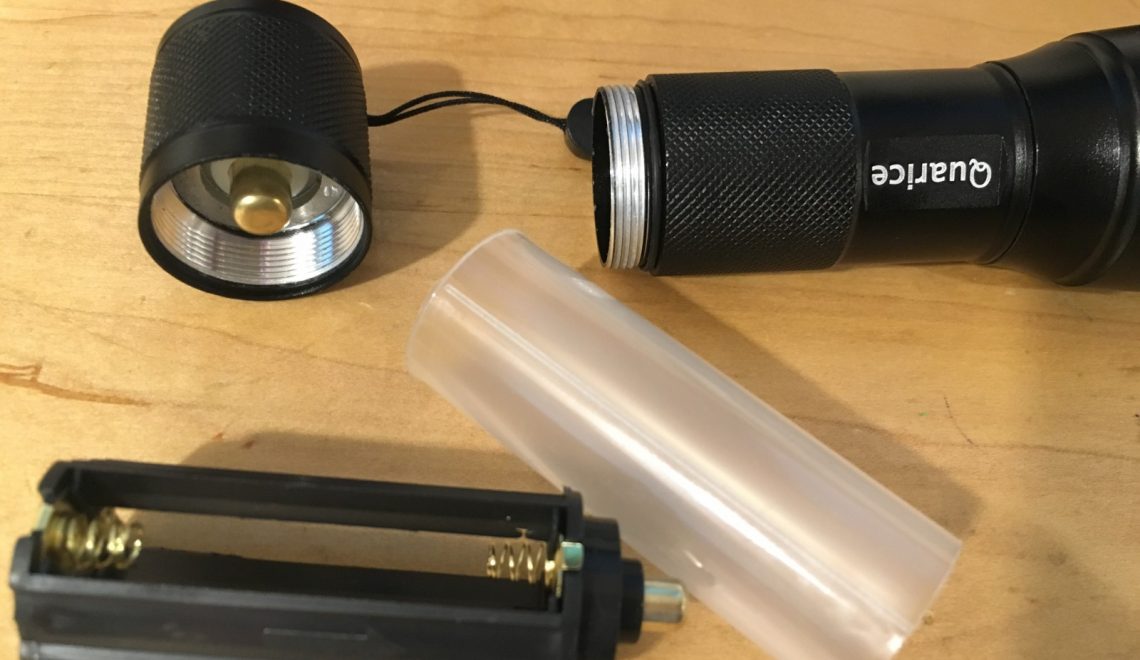 This is one serious flashlight. No joking around. When they say tactical, they aren't joking.  I needed a heavy duty flashlight (torch as they're called on the island) for an upcoming trip to the Cook Islands and I was able to receive this one from Sentexin for free in exchange for an honest and 100% unbiased review. I have no affiliation with them whatsoever and my experiences and words are all my own.
To begin, this feels very well made when you first pick it up. It's metal and sort of similar to a mini maglite although not as heavy for sure.  It's shorter and easier to carry than my old mini maglite also, which I like much better.  This flashlight has a strong LED bulb and is powered by (3) AAA batteries (not included) or you can use a special new style battery called a 18650 3.7V.  Comes with a sleeve to retrofit it and make it work – or use the included 3 AAA battery holder.  I used AAA batteries so I cannot comment how the 18650 battery works.
My experience with this flashlight is that it's a very powerful light in a compact form factor. Turning it on once gives you a steady stream of zoomable light – and by that I mean you can literally pull in and out and zoom the light beam to where you need it.  Think: in the woods, you spot an animal – you can focus the light on the animal rather than flood the area with marginally dim light.  It's really great for pin-pointing something out in the wilderness which is why it's the perfect flashlight for camping or any outdoor activity.  In addition to the steady stream (regular flash light mode) you have a less bright option that you simply envoke by turning it off and back on.  Then you have 2 other modes (also by turning off then back on) — a fast flash strobe light mode, and a slow flash mode.  Both the strobe flashlight and slow flash modes would be handy for getting someone's attention or for making a distress call.  Great for vacation, too as it's waterproof – so it would be fine after a nice rain or accidental drop in water!
Overall, for the money – this is one handy useful high-powered very bright flashlight.  Highly recommend!
See this tactical flashlight at: Amazon.com