InnoGear Motion Sensor Closet 2 Pack LED Lights Stick On Magnetic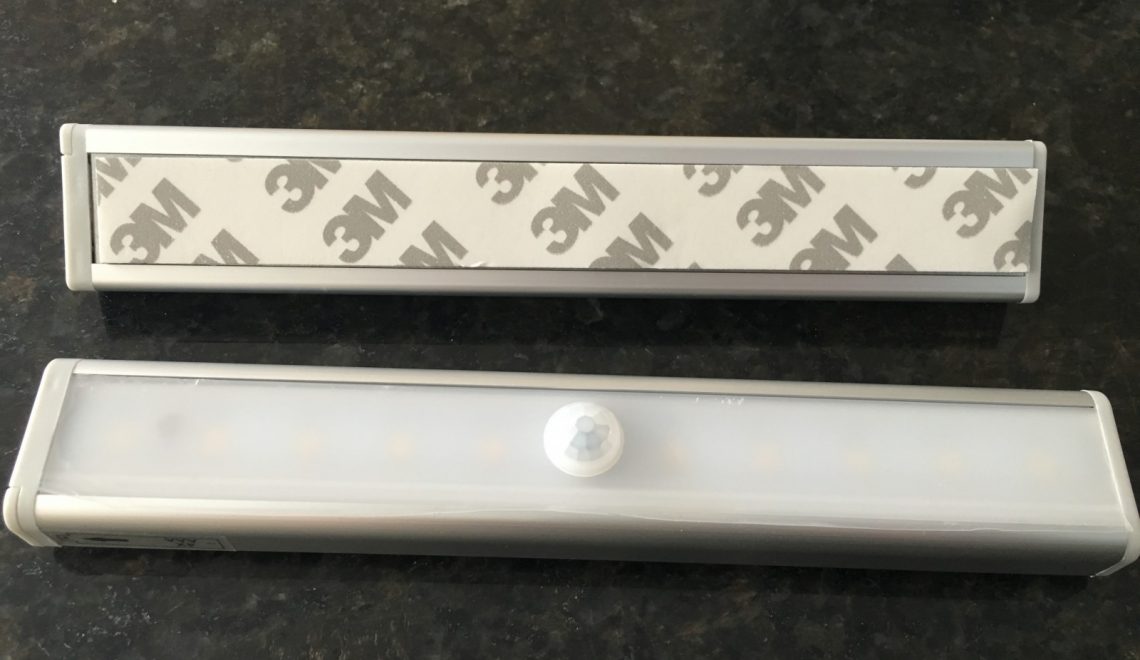 So, first of all – how this product is worded – you would think it would work as an under cabinet tap light.  Let me be clear, there is no tap function whatsoever.  It may resemble the type of tap lights you may see in a hardware store – but there is no tap function at all.
And the motion sensor – well this only works when the lights are out and it's dark enough to trigger the motion.  So my question to InnoGear is very simple – how can we use this as effective under cabinet lighting when typically you'll have some other light in the kitchen on and just require additional light.  I think the company has a good solid product, just how they're marketing it makes no sense.
I did receive this for free in exchange for an unbiased and honest review.  I have no affiliation with the company and here's the rest of my thoughts on this product.
The way this product works best is in an armoire, closet, pantry, or other place where you really don't have good ambient light.  This is where the product excels. Using it as a closet or cupboard light is perfect because you can stick this to the underside of a surface (like a shelf or top of cabinet) and as soon as the door is opened the light turns on.  It's a nice bright warm light that is easy to see with.  Now for this purpose the light works great.  But certainly there's no tap light as the amazon listing says there is.  I strongly recommend they look at changing this product's nomenclature to reflect exactly what this product is and is not.   It requires 4 AAA batteries, which aren't included.  Pretty standard for lights like this.
This product comes with one-sided tape on one side and magnetic bar on the other.  Ingenious.  If you want to make it a magnet light, tear off the protective film from the double sided tape and stick it to the light.  Instant magnetic light.  If you'd prefer to use this as a stick on light, just tear off the protective film from the double sided tape and stick it to the surface of your choosing.  The magnet holds the light in place and if you need to take it down, the mounting for it stays on the surface.  Now that part of this light I like a lot.  It's stylish, looks great in any decor. Very modern looking. They're good work lights so you can see what you're doing but was very confusing when I first read this listing.  I truly thought I was getting a 2 pack of lights I could tap on at any point.  You cannot.  And that's actually a huge disadvantage of this design.  If they can improve it by allowing the user to turn on the lights at any point — 5 STARS ALL THE WAY.  Right now, I have to say it's a 4 STAR light if you're only looking for a motion activated light for your closet, pantry, cupboard, etc…
See the light at Amazon.com