Tabbouli / Tabouli / Tabbouleh Recipe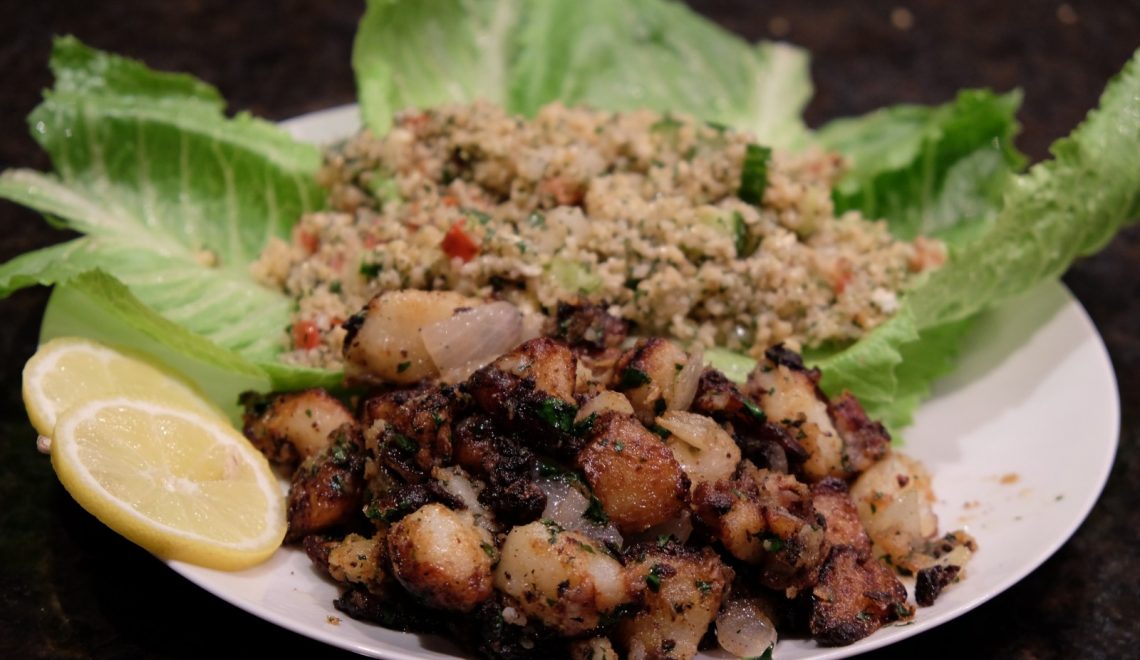 Here's a very simple Tabbouleh Recipe with Batata ma3 Kizbra Recipe.   I can barely spell Tabbouleh so if I can make this recipe, you can too!  As is traditional in Lebanese cooking, this is typically made with "a bit of this…"  "some of that…."  "a pinch of this"  "a few of that…."  So I've tried to capture what was made in The Kitchen Beast's kitchen as best I can.  I bring you the Tabbouli Recipe.  (Shortcut because you should actually make the Tabbouleh Mix from scratch… but this works well too!)
INGREDIENTS
1 cucumber
1/2 large sweet onion
6 large on the vine tomatoes
1/2 c. fresh basil
1/4 c. fresh mint
8 oz. fresh mozzarella
5-6 TBSP extra virgin olive oil
juice of 2 whole lemons
5-6 cloves of garlic
salt and pepper to taste
2 boxes of Near East Tabbouleh Mix
OPTIONAL: Serve atop Romaine Lettuce if you would like to make this into a salad
DIRECTIONS
Make the Near East Tabbouleh Mix as on the package.  Place in refrigerator to cool for 30 minutes.
Finely (rough) chop the sweet onion, garlic, basil, mint, fresh mozzarella, and tomatoes and place them into your separate large salad bowl.  Largest bowl you have is always my choice!
Juice all the fresh lemons and pour it over the mixture. Add olive oil, black pepper and salt in the mixture. Mix well.
Take the Tabbouleh mix out of the refrigerator and combine with the above mixture.  Mix well.
Place in refrigerator to cool for 15 minutes. (or longer)
Serve and enjoy!  Refrigerate any leftovers for up to 3 days.
This Tabbouleh was served with a side of Batata ma3 Kizbra (Potatoes and cilantro).   This was paired with a very delicious cocktail that I call "Cool As A Cucumber".  It's a light refreshing blend of fresh lemon, simple syrup and sliced cucumber and can be made with or without vodka.  (Cocktail or mocktail).