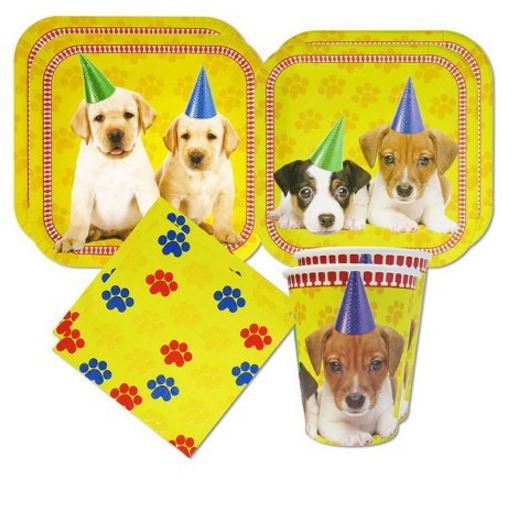 Nothing says you love your dog more than having a birthday party for him / her.  They're our family, no doubt.  And whenever it's their birthday, we want to make them feel a little extra special — I mean, come on – I think every day is special for them!!!  So spoiled!!! 🙂
I was selected to receive this Puppy (Dog) Birthday Party Supply Pack for free or highly discounted in exchange for a 100% unbiased and honest review.  Let me give it to you straight…
THIS IS SO ADORABLE!!!!!!
This is probably the best pack I've ever seen of cups, plates, and napkins to take your dog's birthday party over the top.  Seriously, celebrate in style and get this pack!!!  It comes with everything you need, just add your birthday puppy and some dog-friendly item (i give mine vanilla cupcakes!) and it's a party!!!  I am thinking the only thing missing is one of those pointy Happy Birthday Hats but I'll go to the dollar store for that.  The quality of the cups, plates, and napkins are excellent!! Sturdy enough for human food!  And at the price… I don't feel bad about giving it to my pup and saying "here, lick the plate clean!!!" because you get a lot for your money.  For sure.
I have one of my dog's birthdays coming up in a couple weeks and I'm going to be celebrating with this Blue Orchards Puppy Birthday Pack for sure!!!!
See this awesome birthday pack on Amazon.com
They also have more items for sale at http://www.DiscountPartySupplies.com