Essential Oil Diffuser and Aromatherapy Diffuser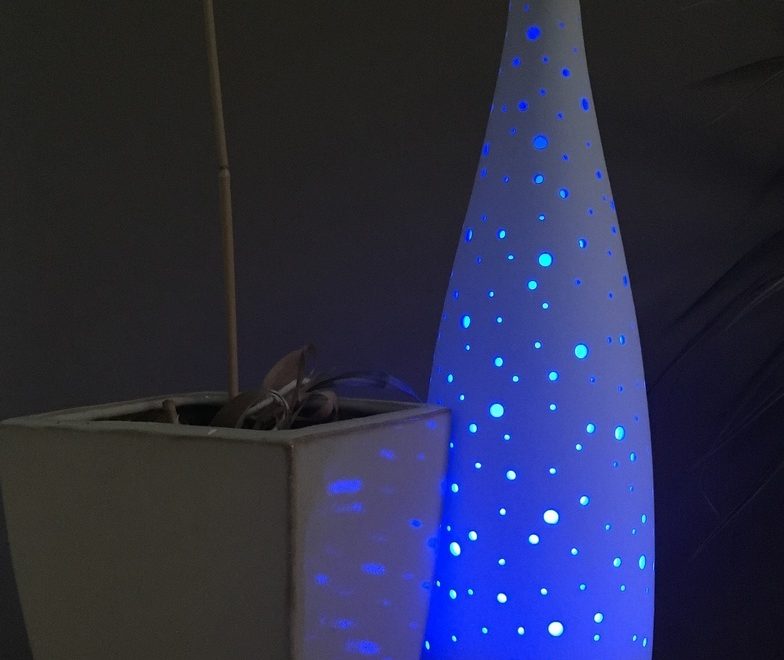 I absolutely love walking into my house and it smelling wonderful.  The house is fairly large and open with tons of vertical space (big tall ceilings) so the challenge is always having enough scent to fill the air.  When we do Yankee Candles, it takes at least 2 burning for a long time before we start to smell anything… and once they go out, it's game over for the house smelling nice.  Plus those candles are EXPENSIVE!!!!  And of course with the little guy, it's not the best idea to have lit candles burning……
I've been a fan of aromatherapy oil diffusers for sometime now, and so I had an opportunity to receive this particular one heavily discounted in exchange for my honest and unbiased review.   I felt as if I could give it a really good comparison to what I already have.
First of all, this is the first one that's ceramic.  Very different than the other plastic ones.  Which also means it's significantly more expensive than the others, too.  But it also looks like it's more expensive — so it looks "rich and elegant".  Not to say the plastic ones looked cheesy, but this one looks even better.  The lights are bright and different than the others that I've tried in that it's powerful – deep rich colors – without being too bright.  It sets the mood nicely.  And the pattern is very cool too!
The base is heavy enough to not have you be concerned with knocking it over.  It's one of the best aroma oil diffusers I've used.  The housing has a top to it so the mist air comes out more "concentrated" – it provides a ton of mist.  Looks very cool when it's on, it acts like a smokestack 0r chimney.
My only 2 complaints about the unit is that there's no "PRESS AND HOLD FOR 3 SECONDS AND THE UNIT TURNS OFF" feature.  So you have to cycle through all the different modes (on with light, on without light, light only, etc.) to get to the off position.   Not a big deal.  The only other complaint is the reservoir.  It's small.  It's only 125mL I believe so it doesn't hold as much liquid as I hoped… but the trade-off for the style and power of it makes this a fair balance.  Yes, we have to fill it more often.  But I guess i'd rather have to do that than to have it running all night and maybe overheat!
Very good unit, solid construction, makes the house smell wonderful… just a little expensive.  That's my opinion — but if I had to pay the full price for this, I would knowing what it can do.  I really love it.  It's actually one of the best products I've had the privilege of reviewing so far!!
Check it out at: https://www.amazon.com/Sterline-Essential-Aromatherapy-Protection-Overheating/dp/B01HBZYV38?ie=UTF8&*Version*=1&*entries*=0