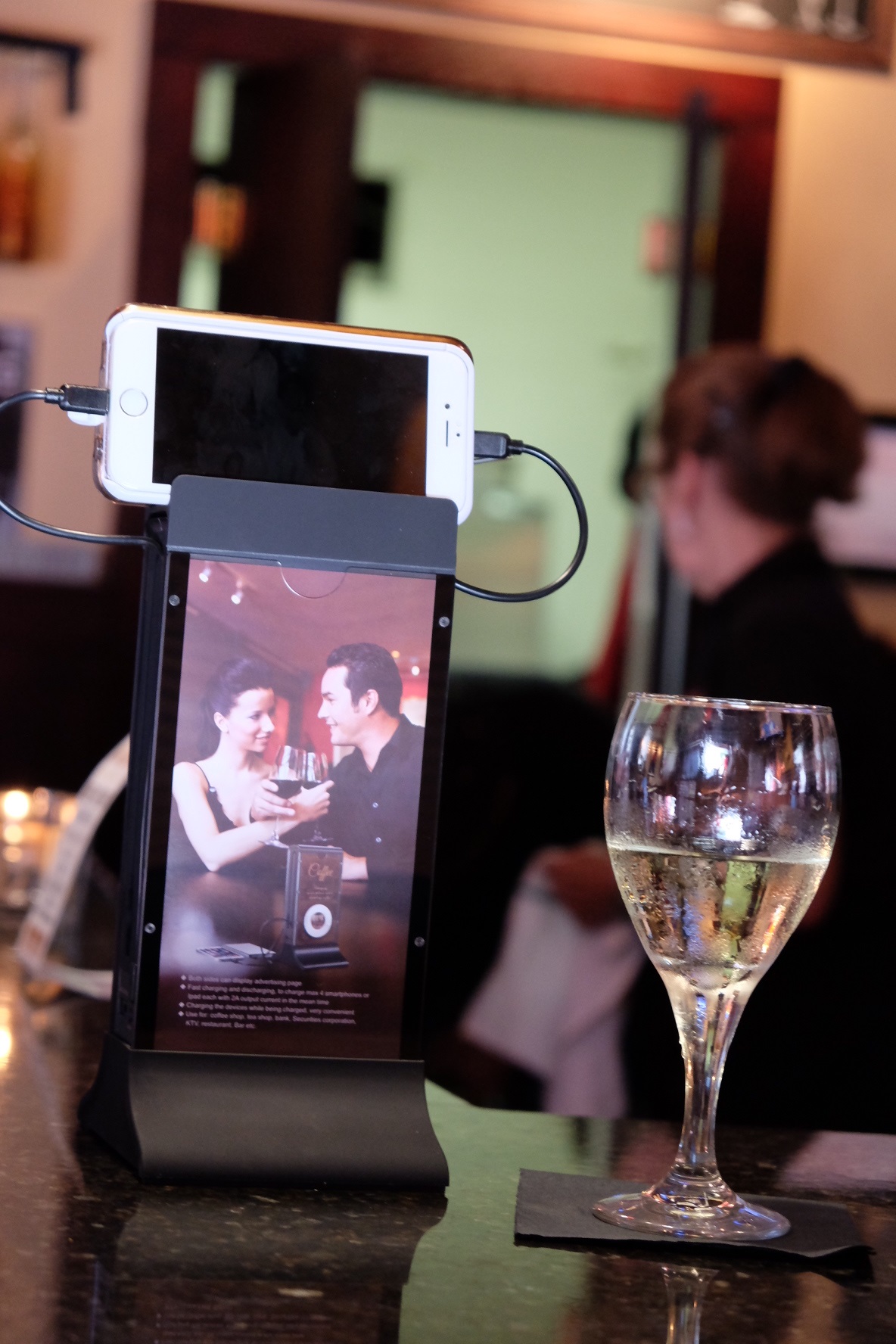 I am not a restaurant or a bar.  What do I need with a Table Tent SmartPhone Power Station?!!?  Let me tell you… 🙂
I love being a host.  I love showing off cool devices.  In the summertime, I love to have pool parties and backyard gatherings and it never fails that someone's battery in their phone is dying.  "Do you have a charger?!?!?"  Sure, i have an outlet right next to the pool's water source!!! NOT!!!!!  It's not safe.  So they end up going inside the house just to charge their phone.  This is an epic failure.  There has to be a better way.
And BPTPS figured it out with this portable charging table tent.  First of all, this was sent to me for free or highly discounted in exchange for my honest and unbiased review.  I have absolutely no affiliation with them and these are my own words 100%.
It comes packaged nicely with a removeable top so you can slide in your menu or other advertising.  The battery pack charges with an AC adapter and is 20,000 mAH which provides a TON of power storage.  It's lightweight but heavy enough that it will not topple over.  It's very well built and stylish.  It has 2 USB ports – on one each side, plus 2 charging cables – one for iphone (lightning) and one for android (micro USB)  – and all 4 devices can charge at once!  Even your tables too!
I brought this to one of my favorite restaurants and they were OOH'ing and AHH'ing over this.  No sooner do I show them this but one of the patrons was running around the bar searching for an outlet.  I decided to let them try this table tent power station and they were VERY impressed.  What ensued was 3 more people coming over to charge their phone, and ipad.  Yes, it even does ipads charging nicely too!   It was such a huge success that the restaurant owner now wants a bunch of them to put at her bar!  She was super impressed.
I think you would be too.  This power battery pack does everything you want it to do.  And with the advertising you can put in there, they'll be definitely read more often than a cheap paper tent.  I HIGHLY recommend this battery pack!
See this at Amazon.com