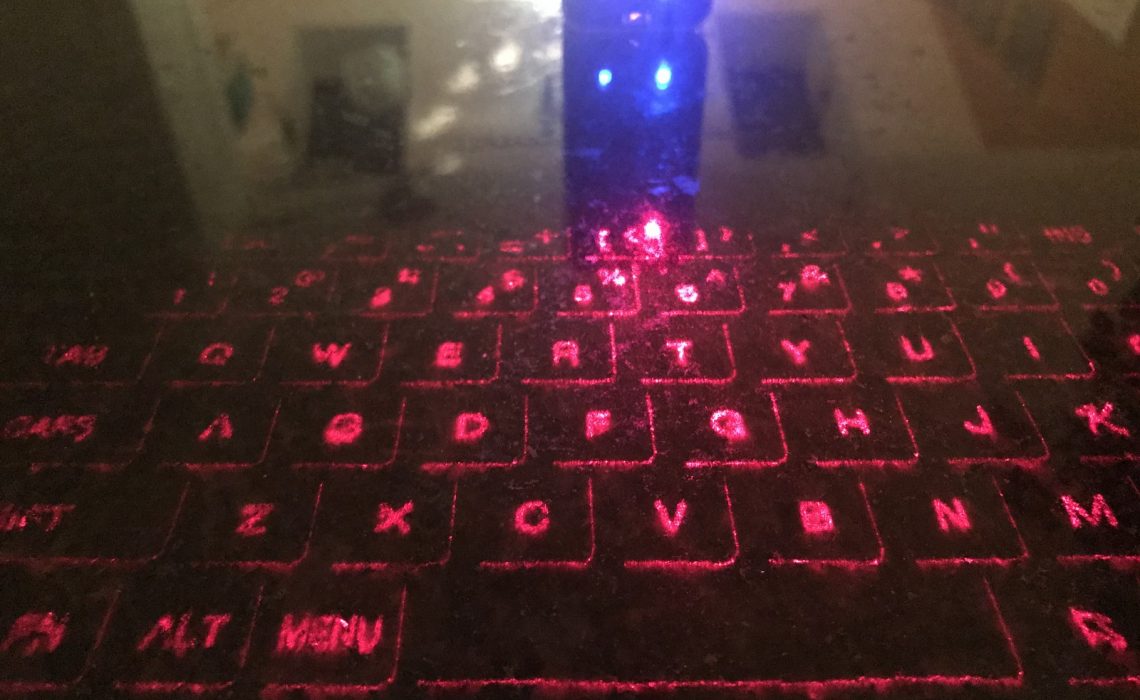 Are you looking for the ultimate in cool? How about a laser projection bluetooth " hologram " keyboard!?!? Doesn't get much cooler than that now does it!?
My main motivation for getting this product was the fact that I have a networked home media system that runs Kodi – the popular firestick app – except mine is running on a full blown Home Theater PC (HTPC). Keyboard search entry is absolutely critical for me… who wants to cursor back and forth when they're trying to search for a video or show? NOBODY that's who! I also didn't want to clutter up the tabletop with a keyboard for the occasional time that I want to search for something. This laser projection virtual keyboard is so slick, i mean it really is awesome.
It's easy to pair, simply turn it on and it's in discovery mode. It took less than 10 seconds to pair with the home theater PC that's in my basement. I'd say that was pretty remarkable. And then it's ready to use. It's that simple. It's bright, although on a dark surface you may need a sheet of paper to view it. Not a big deal at all – but just know that in the daylight you may have a little more difficult time seeing the keyboard. At night, it's perfect. And like i said, I used a simple sheet of any paper to remedy this quickly.
You have to type slower than you type on a regular keyboard – and it takes just a little getting used to but once you get the hang of it – it's so amazing. You can pair this also with your ipad or tablet, and even your iphone! Trust me, i had a ball playing with it!!!!
This is a great little device, especially for applications like I am using it for where it's not a full-time use. It just sits there innocently waiting on the coffee table until I need it. It powers up and pairs so quick that it makes people go "wow!" It's a very cool product for sure. The mouse function works good too – just switch into mouse mode and away you go.
Wow factor = 10. Usability =8 (higher for occasional uses)
PROS:
– Takes up hardly any space and can be a conversation piece
– Fast boot up/pairing time
– It's COOL! WOW FACTOR COMPLETELY!!!
CONS:
– Not as easy to see in the daytime
– May require a piece of paper on darker or textured surfaces
– Cannot type as fast as on a normal keyboard
All around great product. I do recommend this!