USB Charging Cable NJSJ 4 in 1 Multiple USB Charge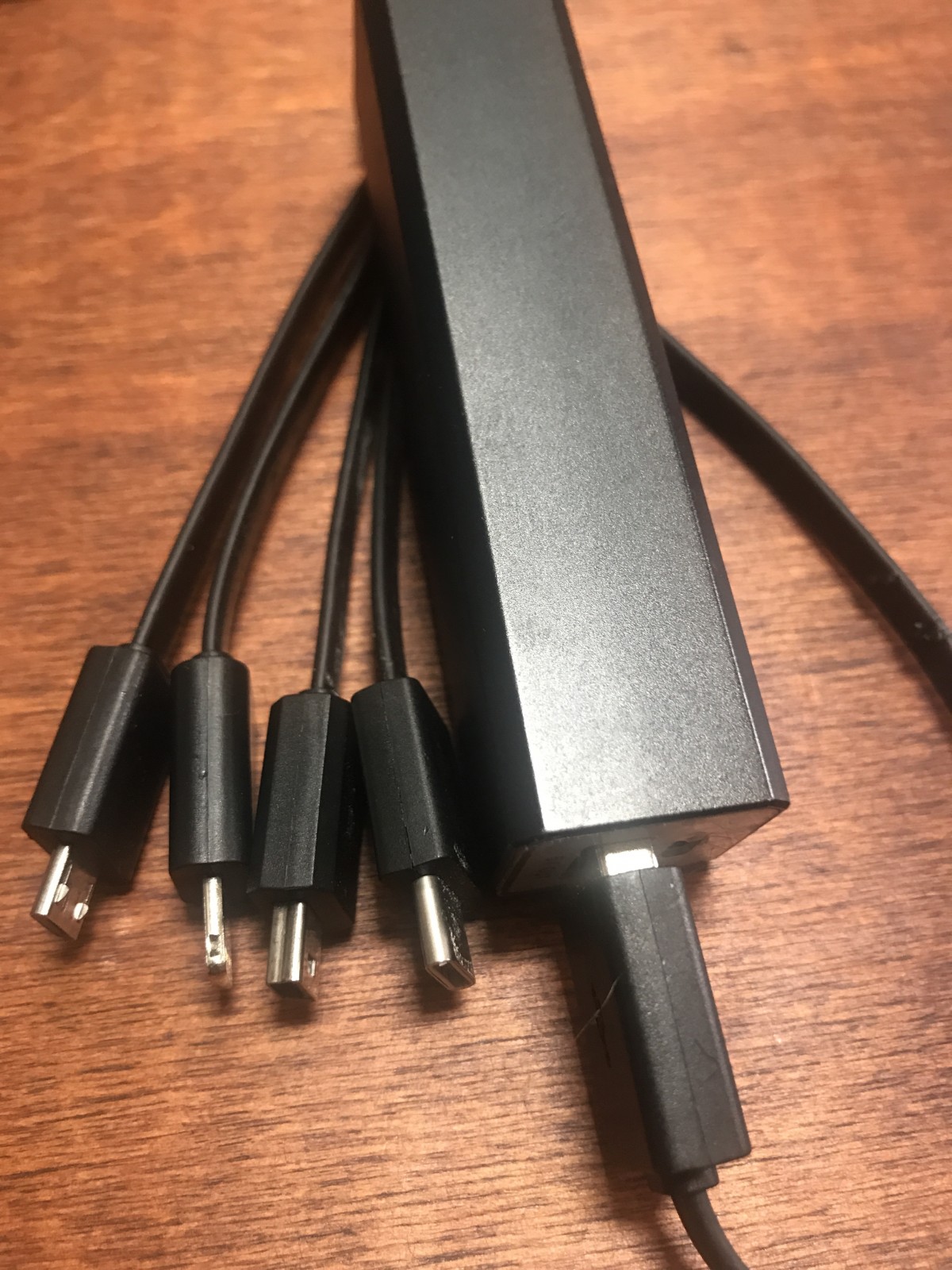 I bought a 4 in 1 charging cable from NJSJ previously and one of my friends liked it so much that she stole it from me! (ok, more like BORROWED!)
These are absolutely handy little things to have.  And now NJSJ has a 2-pack of them at a great price!  $10.99 on Amazon.com
The way it works is simple.  You plug the standard regular size USB end into whatever power source you want.  Battery pack.  AC outlet.  12 Volt Car Adapter.  Computer.  Whatever!
And then it breaks out to 4 plugs that fit a variety of smartphones, tablets, etc.  8 Pin Lightning (not MFI certified), USB C Cable (the new standard), Micro USB Cable, Mini Cable and USB 2.0.  It's perfect for a variety of different uses.  Now keep in mind, this isn't a sync cable… this is only for charging.  It charges fast, up to 2A per cable with current overload protection.  
I tested this against the standard charging cable that came with my iPhone and while the manufacturer of this says it's not MFI certified (i had to look up what that even meant) it charged my phone about as fast as the original cable.  No noticeable performance degradation.  The real selling point of this charging cable is the ability to have a small form factor with all the different connectors on it.  ESPECIALLY THE NEW USB C CONNECTOR!!! A lot of new devices are supporting USB-C so having a charge cable even before I own a device that will use it — that's awesome.
Put one of these in your kitchen, bedroom, even in your car.  I'm going to keep one in my gazebo so when guests come over for movie night and they need power – it'll be readily available.  OH and I forgot to mention – i used a Neff Solar (http://www.neffsolar.com) Charging Panel in combination with this charging cable.  So not only did it work with AC adapters and battery packs, but it worked off SOLAR POWER TOO!!!!  (this solar charging pad is pretty amazing.  See the Photon5 at Amazon.com  – but that's another story entirely!
I promise you that you'll find many uses for this charging cable….  Awesome little cable!
See it at Amazon.com