The Best Crockpot Slow Cooker White Chicken Chili Recipe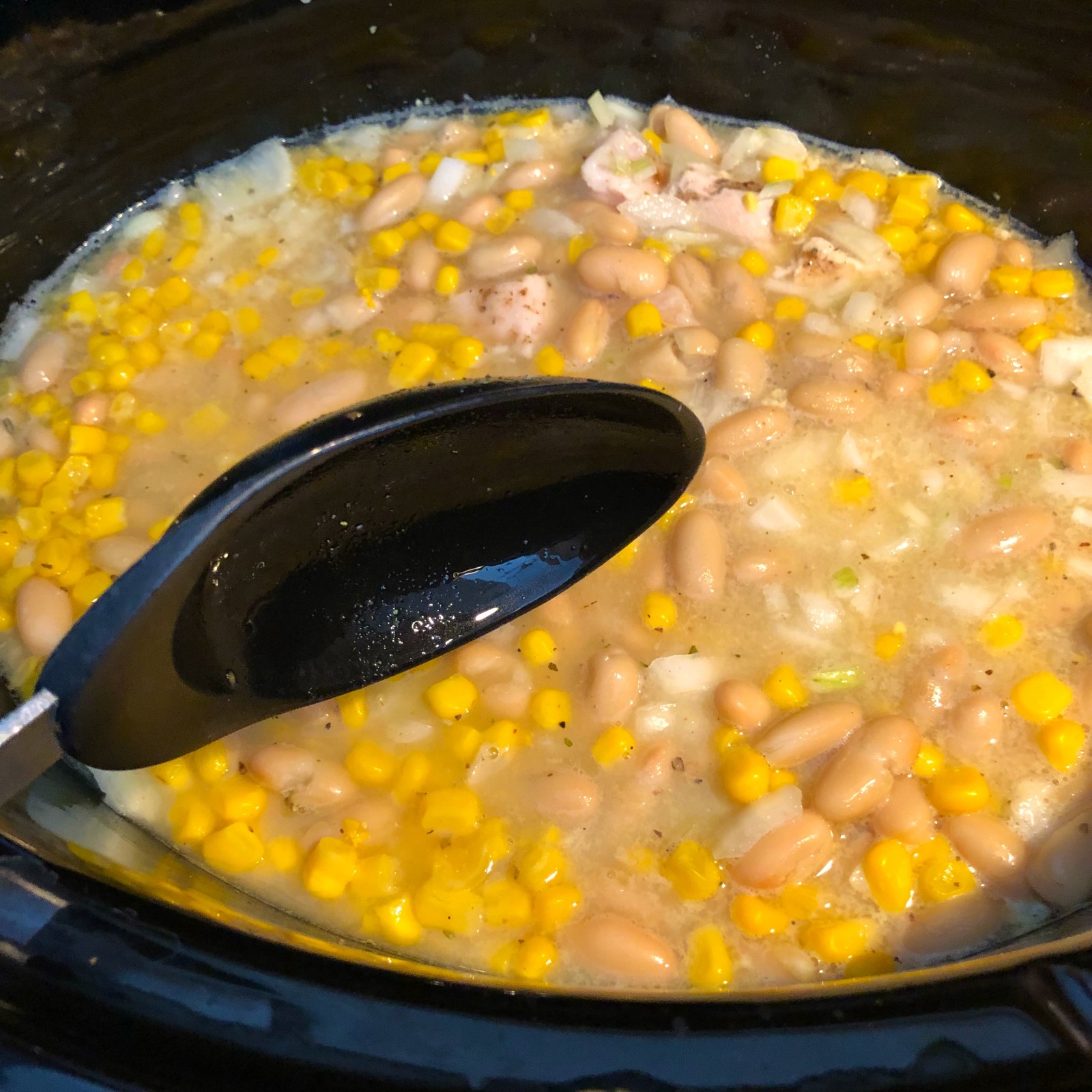 Anyone who says they have the best crockpot (or slow cooker) white chicken chili recipe, it had better contain corn.  That's all I have to say about that.  Corn is what makes this recipe different and a must-have for any type of chicken chili.  Trust me on this one, corn is essential.  And spicy chicken chili is delicious, so don't skimp on the heat.  Let's get to the recipe:
INGREDIENTS:
1 – 1/4 lb. boneless, skinless chicken breast – defrosted and trimmed, sliced into cubes
4 cups chicken stock (32 ounces)
2 15oz. cans of white beans – prefer Italian style, like cannellini – rinsed and drained thoroughly
1 15oz. can of corn
4-5 cloves garlic, minced (or use a garlic press)
1 medium to large onion – sweet vidalia or even a white cooking onion would work, cut into small pieces
1/2 package taco seasoning
2 teaspoons cumin
1 teaspoon oregano
1 teaspoon chili seasoning
salt & pepper (fresh ground, preferred)
1/4 teaspoon cayenne pepper
sliced jalapenos (optional, but delicious)
DIRECTIONS:
Place cubed chicken at the bottom of your crockpot or slow cooker.  Top with chicken broth, white beans, corn, garlic, onion, cumin, oregano, cayenne pepper, taco seasoning, chili seasoning, and sprinkle with salt & pepper.  Stir to combine thoroughly.
Ensure all the chicken is below the broth line, cover with lid and turn your crockpot / slow cooker to high for 1 hour. After the first hour, stir once and replace lid.  Turn crockpot / slow cooker to medium and let cook for another 1.5 – 2 hours.   Cook times vary crockpot to crockpot so make sure you know how fast yours cooks.  It's very difficult to overcook this recipe, so even if you leave it in for too long – you'll still end up with incredible results.
Once cooked, turn off crockpot and throw (optional) a handful of jalapeno slices in (4-5) depending on taste.  The white chicken chili will already be spicy without the jalapenos but add some extra at the end for a little wow factor!
Let cool (it will be hot for a while!!) and serve.
OPTIONAL SERVING SUGGESTIONS:
Feel free to add fresh limes, sour cream on top, shredded cheese, layer the chicken chili on top of tortilla chips for a new take on frito pie! (I LOVE FRITO PIE!!!) The options are endless!!!