Giant Large Dog & Puppy Crate Play Pen Gate High Panel Fence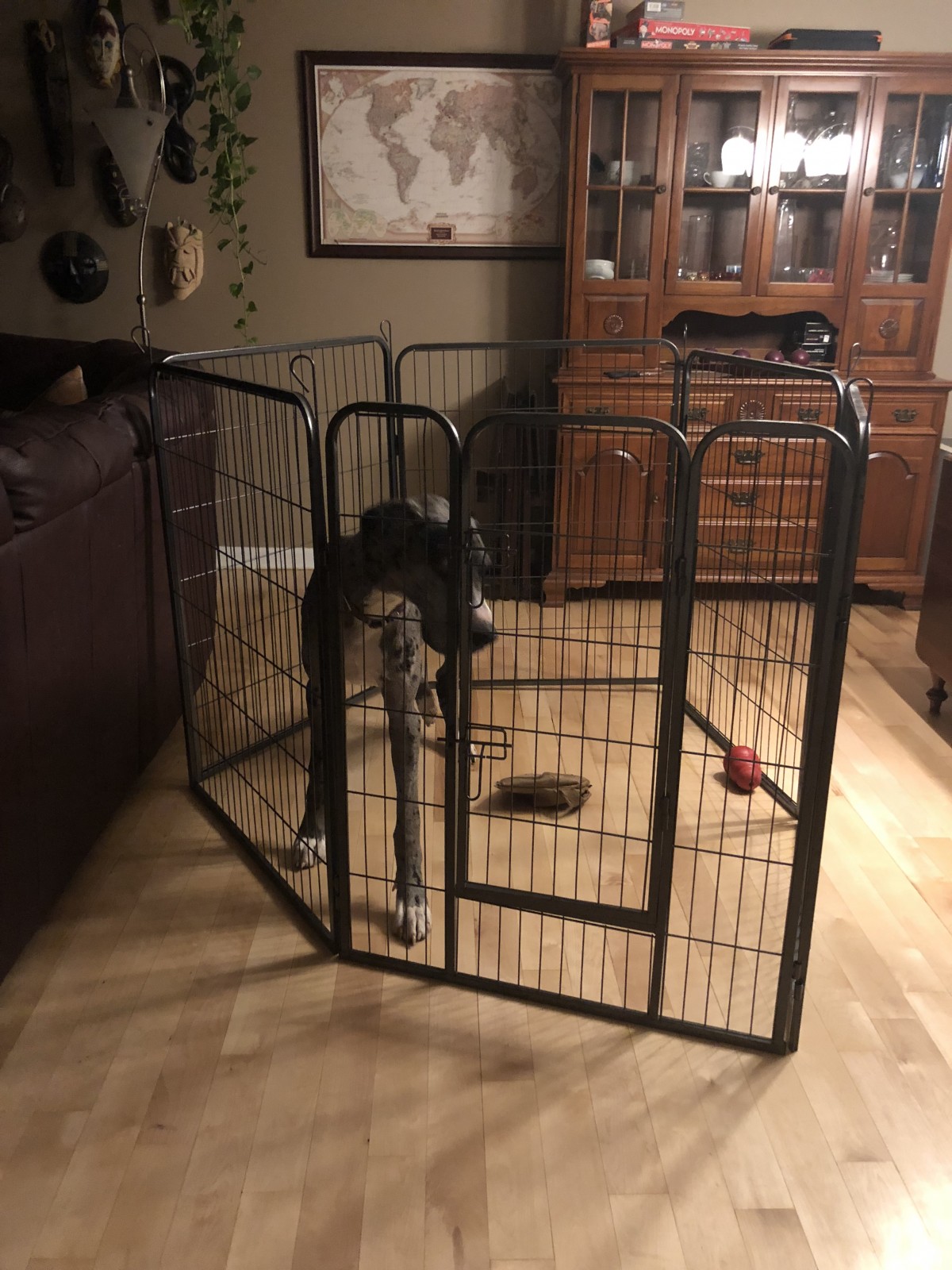 If you own a giant or large breed dog, you know that big puppies grow up to be giant dogs!!! And what happens when your Giant Great Dane Puppy starts to outgrow their crate? That's exactly what happened to me…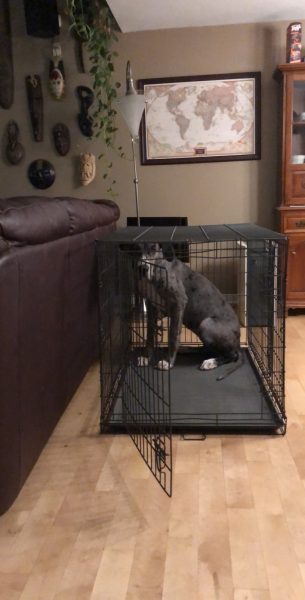 No longer did my precious Gia fit in her crate.  She would go in there.. but didn't have room to do very much and I felt guilty keeping her in there for any period of time.  I ordered the Safstar 40″ High Panel Dog Crate Alternative for that very reason.  I wanted a play pen where she had room to hang out during the day since she's not old enough that I can trust her to be alone in the house without eating or destroying it!
This panel fence kit was super easy to put together.  Panels and rods. So simple. Just push the panels together and drop the metal rod in the top and bottom.  I had the entire play pen assembled in 90 seconds from unboxing to finish.   It literally could NOT be any easier.  The metal sections are very well constructed and are built to last.  There's a door in one of the panels to make it easy for your puppy (or dog) to get in and out with ease.  You don't even need to use all the sections, either!  I left 2 sections out so that the Great Dane doesn't have too much room — I don't want her to be able to relieve herself in one section of the playpen and be able to avoid and walk around it.  Let's make no mistake – I still want her to feel like it's her dog crate… I just want her to have more room – especially head room for a dog with long legs!!!
My guess is that you could also just use it as a fence or barrier to keep your pet out of a particular room or area as well… I used to use a baby gate for this, but now that I have this product – I'll be using it instead when I need it.  Oh and one other thing – you could probably use this to put around your Christmas Tree to keep the dogs from getting AT the tree.  How ingenious is that!?!  My only minor complaint is that the metal rods could maybe have a rubber foot on them in case your dog pushes the fence so that it doesn't have a chance to scrape up the floor.  I ordered a set of rubber end caps (just search rubber end caps!) from Amazon so I'll give that a try and see if it works.  But I've been using this for a few days now and nothing like that has happened… maybe I'm worrying for nothing!!  Regardless, I highly recommend this dog crate alternative!! It's a great play pen for my huge puppy!!!!
Oh and don't let her puppy eyes fool you… she's MUCH happier in this playpen than in her crate!!!!!!
See it at Amazon.com