Geniani Home Air Purifier True HEPA Filter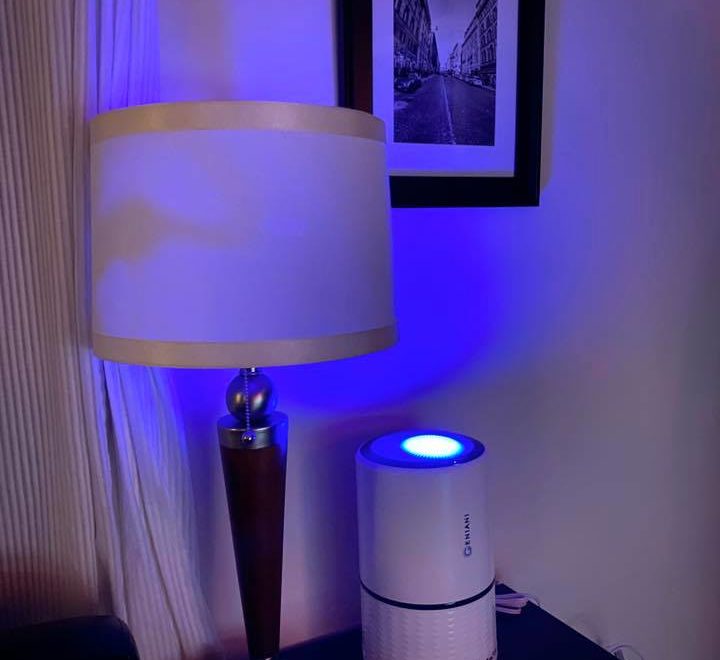 If you are concerned about your home's indoor air quality you should check out this Geniani Home Air Purifier with True HEPA Filter. Air quality is very important – especially if you have pets. Cat and dog dander, allergens, smoke, odors, etc. they are all air pollutants and decrease the quality of the air we breathe. Trust me, I know.. we have 3 cats (and i'm not even a cat person!) and 2 dogs. I have used air purifiers for years and so I know a thing or two about them! Here's what I've found about the Geniani Air Purifier.
First of all, it's quiet. Very quiet. Most air purifiers are noisy but this purifier on it's lowest setting is very unnoticeable and easy to keep on 24/7 – which is what you want. You really do want your air purifier on all the time if possible to move the air throughout the room and home.
Even on medium or high, it still isn't bad at all. It has less than 35W total draw so it's very energy saving – low power consumption. There's a very nice blue light on the top that you can adjust down to a very low setting for "mood lighting" – it's a nice touch.
The 3 stage filtration works great! The carbon disc design is very easy to install and even easier to replace! The G-2000-FL replacement filter (3 in 1) is inexpensive, too! Amazon.com has it for $17.99 as of the writing of this review! Some air purifiers really get you when you go to replace the filters… this one is very affordable.
Honestly, there's not much downside to this air purifier… It's a solid value and works great. Makes a noticeable difference and it's a MUST if you have pets!