FreshJax Grilling Spices Gift Set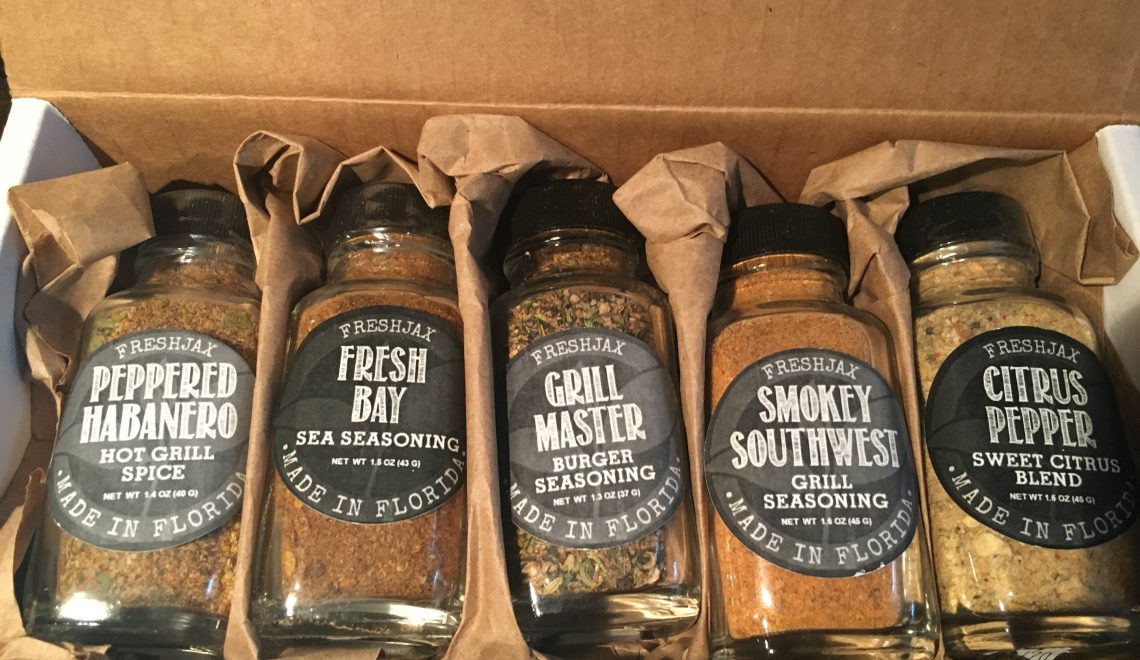 Nobody like bland food, let's face it.  Tasty is better.  And often times you're looking to cook a couple things, not just one thing.  So when I was selected to receive a #FreshJax cooking spice of my choice, I couldn't choose just one.  I thought about Peppered Habanero, but then kept coming back to Citrus Pepper and how good it would be on chicken…. And summertime means burgers and burgers need seasoning so Grill Master kept coming up into my head.  In the end, the awesome people at FreshJax sent me a sampler of all 5 for free in exchange for my honest and unbiased review.
So here it is!!
Let's start with Peppered Habanero.  It has a kick.  Wow.  Very nice kick.  But it's not just raw heat, it's tasty.  I used it on shrimp "on the barbie" and it was so tasty!!!
Fresh Bay is like a very tasty version of Old Bay, which I despise.  I used this on fish pan broiled on a cast iron skillet and it turned out wonderful – little olive oil and fresh lemon garnish.  (and a little parsley!)
Grill Master has a little kick to it that my old standby Montreal Steak Seasoning doesn't have.  I can't place it, but it goes great on hamburgers — or use it to season strip steaks for when you're making kabobs.  (I find strip steaks work the best for kabobs!)
Smokey Southwest (if I'm honest here) is my least favorite spice… I tried it on chicken and it did taste good – don't get me wrong.  But it didn't WOW me.  Call me crazy, but I think the next time I make Taco Dip, or Frito Pie (if you've never had it….. MAKE A FRITO PIE!!!!)  I'll be using this seasoning.  Or even in a chili!  I'm in upstate New York so it's not far fetched that this one wasn't my favorite grill seasoning… But if I dont use it in a BBQ setting, I'll find a use for it.  Again, it tasted good – just wasn't what I wasn't what I wanted on my grill!  Just being honest here!
And last, but certainly not least…. Citrus Pepper.  I thought this was going to be an alternative to my old stand by "Tone's Lemon Pepper" but it wasn't.  It had a lot more flavor.  Less lemon, more orange ( i don't think there's any in Tone's) and a wonderful flavor explosion.  My only regret is that I didn't season the meat long enough in this!!!!  Next time I make it, I will be putting it on the chicken and refrigerating it (marinating) it for 24 hours beforehand!
Overall, my experience with #FreshJaxSpices was amazing.  The ingredients are clean so I feel great about using it and promoting it to others.  When I run out, I'll be ordering more for sure!!!  See the product for yourself at: Amazon.com and do yourself a favor and order the 5-pack set.  You won't regret it!!!